Which Medical Insurance Best Suits Your Company's Needs?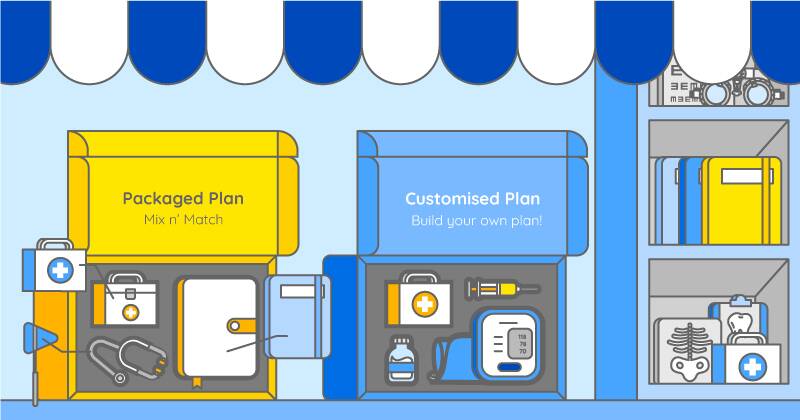 Employee Benefits enhance a firm's ability to stay competitive on compensation packages offered to prospective employees, and come mainly in 2 forms: Packaged Plans and Customised Plans. Often, many HRs or directors in companies are unsure about which to pick to suit the best interest of their employees, especially when they are new set-ups.
A quick summary of both plans:
| | | |
| --- | --- | --- |
| | Packaged Plan | Customised Plan |
| Audience | SMEs | Large corporations |
| Pricing | Age of Employees | Detailed employee health profile and historical claims |
| Health Declaration | No | Subject to fact finding |
| Pre-Existing Conditions | 12-month waiting period | Subjected to health underwriting |
| Coverage | standardised options | Fully customisable |
| Application Time | Within a day | Up to 2 months |
Note: Pre-existing cancer and renal failure are permanently excluded under Packaged Plan.
Small Medium Enterprises (SMEs) with few employees:
For smaller companies such as the Small Medium Enterprises (SMEs), Packaged Plans seem to be the simple go-to solution as they are convenient and do not require any health declarations. On top of that, the prices are as seen on brochures which provides transparency to the audience and a good head start for companies who are new to this, with the common coverages usually listed in the brochure.
As most SMEs also worry about the rising cost of their medical insurance due to high claims throughout the year, we are glad to break the news that Packaged Plans are running on portfolio-rated basis. This means that the insurer will not increase the premium just because you've had a year with high claims, but rather look at their entire portfolio of companies as one entity and adjust the premiums accordingly.
The downside of Packaged Plans would be the inability to customise the plan limits to suit each organisation's needs. Also, switching of Insurers are highly discouraged in view that it will restart the 12 months waiting period for pre-existing conditions under Group Inpatient coverage for existing members who are insured under the policy.
Notwithstanding the above, Packaged Plans is still a widely adopted Employee Benefits solution for SMEs in view of its simple structure and fuss-free application process. At eazy, we provide an aggregator platform to help SMEs compare the various Packaged Plans across different Insurers in a few clicks
Larger companies with more employees:
On the other hand, larger companies such as MNCs may prefer Customised Plans if it is important for them to be able to customise certain coverage to suit their employees' needs.
Customised plans have a wider range of healthcare services to offer, and employees would be entitled to benefits such as those relating to health screening, maternity and optical.
Clients will also benefit from more policy entitlements such as experience refund¹ and letter of guarantee services². On top of that, one advantage that would prove useful for MNCs would be that coverage for Customised Plans can be extended to overseas entities related to their Singapore office.
It will be good to note that for Customised Plans, companies are expected to provide detailed health profiles of employees and claims experience in order for insurers to work out the pricing, and the application process can take some time depending on the complexity of each case. This also means that the coverage for pre-existing conditions will be subject to health assessments by the insurers.
Last but not least, Customised Plans are experienced-rated – this means that insurers assess the usage and claims experience of a particular company on that year alone to derive premium prices. In the event that a company's claims have been high for a particular year, they may be subject to a higher premium or capped benefits in the following year.
Get insured with the right help.
Having an expert on your side to help you pick the right insurance plan and find the best price can be a big help. If you need help finding the right insurance coverage, consider working with an experienced broker like eazy. Our team can advise you on various insurance plans, including motor, health, corporate, lifestyle, and marine coverage. Speak to us today to get your insurance needs covered.
Contact us for policy quotation,
comparison and unbiased advice now!