Having Trouble Renewing Your Road Tax? It Might Be Your Insurance Policy.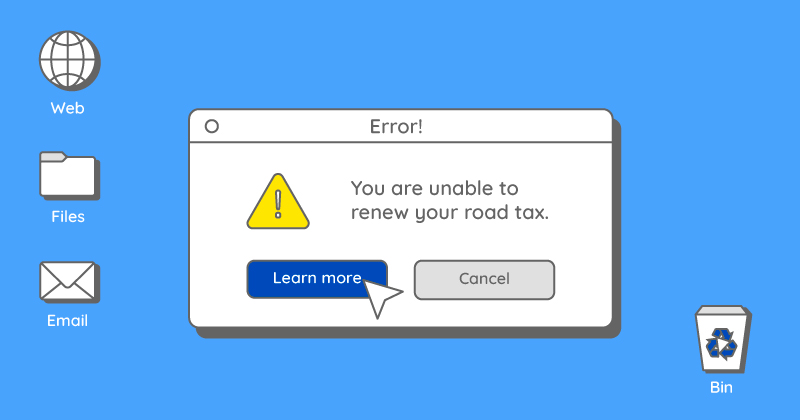 Can't renew your road tax? If might be your insurance period
Drivers are sometimes surprised to find out that their Road Tax renewal on their pre-owned car depends on having a sufficiently long enough runway of car insurance. Read here to find out more!
Road tax renewal requires insurance to match the expiry date. If you have bought a pre-owned car, they might not match.
You have bought motor insurance when you purchased the car, but the LTA website onemotoring.com is telling you that you do not have valid insurance in place. What happened?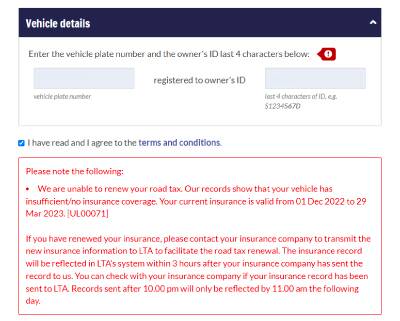 The most likely reason is a misalignment between the road tax period and vehicle insurance policy coverage.
Misalignment
First, a few facts;
Road tax is only purchasable in 6-month or 12-month periods.
New insurance policies are purchasable in 12-month periods.
Road tax can be renewed online only if you have insurance matching the road tax dates.
You need both road tax and vehicle insurance to legally drive your vehicle in Singapore.
This issue arises most commonly if you have purchased a pre-owned vehicle. This vehicle will come with some period of road tax remaining (under former owner). Unlike road tax, insurance policies do not transfer along with the vehicle; and you will have to purchase a new insurance policy for yourself. Thus, this new policy and the old road tax will very likely not expire on the same day of the year – this is the misalignment, or policy "shortfall".
However, this won't be an issue until the period where you need to renew your road tax. Let us illustrate.
Realignment of insurance and road tax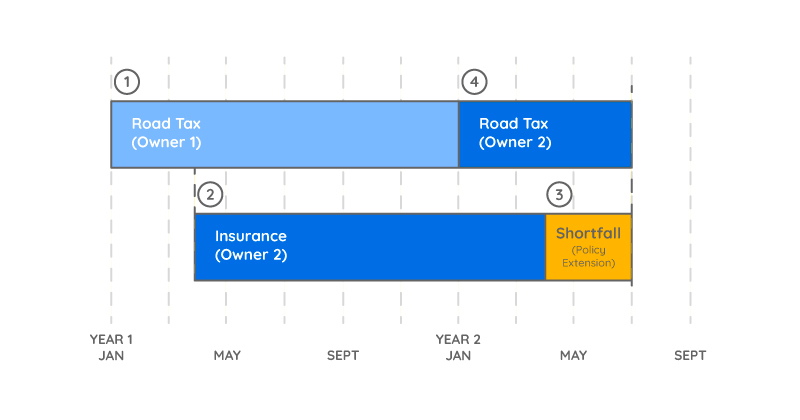 The graphic above shows an example where road tax and insurance might misalign. Owner 2 (you) purchases a car from Owner 1 in April, and purchase a new 1-year insurance policy for the vehicle from the day he bought the car in April. However, the Road tax for the vehicle, which Owner 1 purchased, still has eight-months left before expiry the subsequent January.
Later, Owner 2 tries to renew the road tax but is informed of insufficient insurance coverage, to the new road tax period end. There is a three-month shortfall between insurance and road tax.
Thus, Owner 2 must extend his insurance policy by two months, in order to the road tax. This policy extension will cover the shortfall.
The LTA system will automatically update and recognise Owner 2's insurance policy extension. Owner 2 can then purchase six-months of road tax, which will re-align his policy and road tax.
So how do I ensure that my road tax and insurance match?
When you purchase a pre-owned vehicle, ask about purchasing the insurance for the car for more than 1 year, to match with the road tax period. An experienced insurance intermediary would be able to get this done for you.
eazy can help to extend your vehicle insurance policy to create sufficient runway to match your road tax. We will extend your policy for the time required (the cost of which will be pro-rated), so that you have a seamless road tax renewal journey.