How Can Public Liability Insurance Protect Businesses with Manual Labour?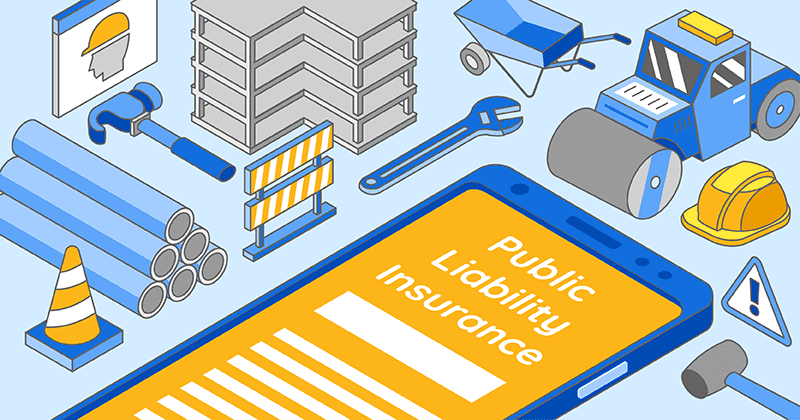 So, you just started a business that involves some form of manual labour. Before you set out taking on your first contract, you would understand that blue collar work is hard and precarious work. Who knows - Tomorrow, you may be forced to cover a lawsuit that you may not be able to pay for: All because your employee neglected a few metal beams laying around, and someone tripped on them and fractured their wrist.
Hypothetical situation got your attention? That is why Public Liability Insurance is important. Although Public Liability Insurance is not mandatory under Singapore Law in general, it is contractually required for certain businesses to possess them before work can commence. It helps protect your business and employees from any third-party damage or litigation wrought by negligence or bodily injury caused by your business.
What Are the businesses that need public liability insurance?
That said, Public Liability Insurance is generally required for businesses dealing with:
Contracting
Renovations
Additions & Alterations (A&A) Works
Construction
Commercial Leases
What if I'm just organising events?
You'll need a separate insurance type called Event Liability Insurance. It helps keep your employees safe from lawsuits and claims made related to accidental injuries of others outside your company, and of property damage to the venue. Venue operators will ask for proof of Event Liability Insurance before an event takes place on their premises.
Public liability insurance vs contractors all risk insurance:
If you run a construction or renovation firm, you must hold two types of insurance: Public Liability and Contractors All Risks (CAR) Insurance. Ever wondered what are the differences between the two? CAR Insurance is generally better for renovation works.
In a nutshell, the coverages for both Public Liability Insurance and CAR Insurance can be summarized in a table like this:
Public Liability Insurance VS Contractor All Risk (CAR) Insurance

Coverage
Public Liability Insurance
CAR Insurance
Damage to contract works due to major risks like fire, flood, explosions, lightning, water damage, etc.
Not Covered
Covered
Damage to client's property caused by your negligence

Not Covered: Areas part of contract works.

Covered (Depending on Policy): Areas not part of contract works.

Covered for areas which are part and not a part of contract works.

Third-Party Property damage

(e.g. Neighbouring buildings)

Covered, but with exclusions for damage caused by vibrations / weakening of support
Covered

Third-Party Injuries

(e.g. Members of the public)

Covered
Damage to contractor's machinery and equipment at work site
Not Covered
Coverage of hot works / welding
Not covered unless specifically included
Coverage for piling, excavation, and demolition works
Not covered
Insurance brokers who offer both Public Liability Insurance and CAR Insurance will usually encourage business owners that are involved in contracting to buy Contractors All Risk Insurance. Not only does Contractors All Risk Insurance offer a wider coverage, but insurance brokers like us can offer a Contractors All Risk Insurance quote almost immediately.
Landlords and tenants of commercial leases:
Cases for landlords of commercial leases requiring their tenants to take up Public Liability Insurance policies that covers both tenant and landlord are increasingly common.
Customers or landlords may request to be named as principals in their contractor's Public Liability Policy to cover all sorts of vicarious liability. This allows them to seek indemnity under the contractor's policy if there is a claim against the customer which arises as a result of the contractor's negligent act.
How much does public liability insurance, CAR insurance, or event liability insurance cost?
The cost of insurance that helps cover your business from third-party public liabilities can vary. It is usually dependent on the nature of your business or work, duration of a project, and contract value. This insurance can cover based on project or in general for the entirety of your company. If your business is undertaking large projects, underwriting is required – So start early!
Conclusion:
You may be considering that purchasing Public Liability Insurance may not be necessary for your business – We may not have stated explicitly that a business of your nature requires one. Also, you may feel confident that you're not breaking any laws if you don't purchase a plan. Regardless, there is no harm in contacting your insurer to make sure your business is well protected. Contact us for a review.
If you already own Public Liability Insurance, it's a good idea to review them every year to make sure your business operations are adequately covered. If you would like more information on Public Liability Insurance, click here.
Get insured with the right help.
Having an expert on your side to help you pick the right insurance plan and find the best price can be a big help. If you need help finding the right insurance coverage, consider working with an experienced broker like eazy. Our team can advise you on various insurance plans, including motor, health, corporate, lifestyle, and marine coverage. Speak to us today to get your insurance needs covered.
Contact us for policy quotation,
comparison and unbiased advice now!