eazy's 24/7 Accident Assistance Saves You Hassle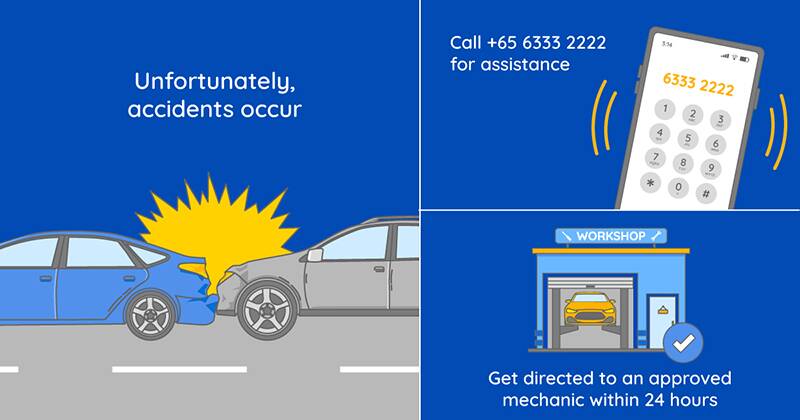 First off, save this number:
63332222
It's going to save you lots of hassle.
Let us explain:
The last thing you want to happen is getting into car accident on your way to the work appointment. For most cases, it will take anywhere from thirty minutes to an hour to conduct the necessary on-site procedures of getting to safety, exchanging personal information with the other driver, maybe calling for a tow truck.
Then comes the part where you have to report the accident to your insurer. The accident already ruined your day, and the process of reporting it to your insurer is going to ruin your week.
Don't forget; regulation mandates that you report an accident to your insurer within 24-hours of the accident.
Established motor insurers will have appointed authorized dealers as an Accident Reporting Centre. Other insurers may maintain their own list of Accident Reporting Centres; most likely workshops in Sin Ming or Ubi.
So, if you bought your luxury sedan from an authorized dealer and got your car insured by one of said workshop-accident reporting insurers, you would first have to go to an appointed workshop in the Sin Ming industrial area to do your reporting, and then bring your vehicle back to your authorised dealer to do your repairs. Just having to go to one of these locations alone would already take you the better half of a day. That's two tiers of effort!
This bureaucratic system wasn't intentionally designed to wear you down, but it does. At the end of it all, you're none the wiser on where you should repair your vehicle, or how to make an insurance claim.
Fortunately, eazy has solved this problem for all our clients.
What our clients get with 24/7 Accident Assistance
We can proudly boast that we're the first to design a new motor accident reporting process around your lifestyle; to minimize the disruption to your routine. In collaboration with AJAX MARS, we have launched our Accident Assistance benefit so that you can enjoy these features:
Access to a 24-hour hotline

Ability to do Insurance accident reporting anywhere

AJAX MARS

 commits a 30-minute turn-around time on site activation for accidents

Appointment system for post-accident reporting at location of your choice (your home, for example)

Advising on claims procedures

Helping to arrange for tow of vehicle after an accident to your designated workshop
Instead of the tedium of possibly driving to multiple locations, our process takes you collectively less than an hour – and no driving deviation required away from your routine.
Don't settle for a mediocre standard and don't let that compromise yours; eazy is pushing a new paradigm.
All existing eazy Motor insurance customers* can call the 24-hour hotline at 63332222 and provide a copy of your Certificate of Insurance for authentication for this service.
*Offer not extended to NTUC and China Taiping motor policies